The Dance Teachers Supply Agency is run by BRIDGET HEARNE-SALIBA ARAD Dip PDTC RAD RTS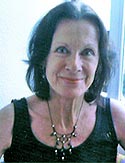 After a successful career as a professional dancer with London's Festival Ballet re-named English National Ballet and then more recently qualifying with the Royal Academy of Dance as a teacher Bridget set up 4 ballet schools in London – Acton Ballet School, Fulham Ballet School, Maida Vale Ballet School and Ealing Ballet School. All schools only employ qualified teachers as the schools are members of the Council for Dance Education and Training and qualifications, insurance and CRB clearance are a criteria.
Over the years several enquiries have been received through these schools from a number of establishments requesting teachers to start classes. These include David Lloyd in Kensington, Nursery schools in Fulham and Clapham, Primary schools in Westminster and Tower Hamlets and Secondary school in Hammersmith. More recently I have also been requested to do wedding choreography.
These enlightened Head Teachers gave us the idea to set up a website and spread the word that dance is beneficial to all children of all ages – see BENEFITS MENU.
Parents like the idea of dance being taught in the same establishment as where their children go to school, it is convenient and they feel that the school is enlightened. We hope you will too!
We can supply teachers qualified in:
Ballet for children and adults
Hip hop
Jazz & Adult jazz
Sevillanas for Adults
Flamenco
Tap & Modern
Latin & Ballroom
Zumba
National dance, Kossak, Russian
Contemporary & GCSE dance
Musical Theatre – singing, dance, performing arts dance & drama
Dance to Autistic and Down Syndrome children
Ballroom
Cunningham technique
Pilates
Acrobatics
Choreography
Irish dancing
Street