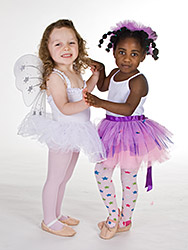 BALLET - can be taught from as young as 2½yrs. Every little girl wants to learn ballet!
There is a structured syllabus devised by the Royal Academy of Dance (RAD) especially for this age of child. As a result imagination will flourish, an understanding of grace, pointed feet, jumping, musicality. They will also learn to listen and copy by example.
TAP - the boys as well as girls love tap. The sound the shoes make on the floor, the fun movement of the legs and body. Special shoes must be worn.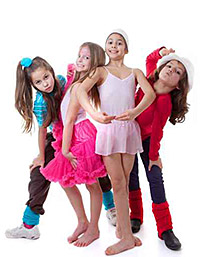 BALLET – for children of 5yrs upwards the steps get more intricate and groups of steps are put together making children use their memory skills. They work within a team and also compete in order to turn the fastest, jump the highest etc. It is fun and keeps them fit.
TAP – children in this age group can now progress towards taking an exam. This gives them a tremendous feeling of achievement and pride and increased self confidence is a definite bi product. But exams need not be necessary if tap is taken just for fun
STREET – all children especially boys like the free, fast and difficult moves of street dancing. The modern music appeals to them, it has street cred and children are very aware of what they see on television and want to experience for themselves.
BALLROOM – also appeals to a few parents perhaps not the children so much but as an art form it has a lot to offer in deportment and neat footwork.
SPANISH – a very stylised form of dance sometimes taught with castanets and always popular with children from Spain and South America.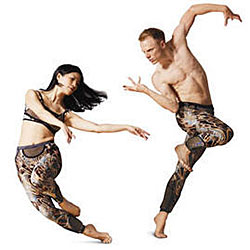 CONTEMPORARY – this form of dance can be taught to any student without any former knowledge of ballet. Choreography by the students play a large part in the movements that develop. They learn to create shapes and structures and work with one another. Contemporary is especially useful if they are trying to create a dance for one of their school plays. It is also possible to take GCSE dance as a course over 2 years.
JAZZ – is a classification shared by a broad range of dance styles. Before 1950s jazz dance referred to dance styles that originated from African American vernacular dance. In the 1950s a new genre of jazz dance – modern jazz dance – emerged, with roots in Caribbean traditional dance. It continues to be a well loved style of dance. Moves used in Jazz Dance include Jazz Hands, Kicks, Leaps, Sideways Shuffling, Rolled Shoulders and Turned Knees.
MUSICAL THEATRE – is a form of theatre that combines songs, spoken dialogue, acting and dance. The story and emotional content of the piece – humour, pathos, love, anger – are communicated through words, music, movement and technical aspects of the entertainment as an integrated whole. The experienced teacher in this diverse field and students would work on a show piece together and discover the creative build up and technical skills necessary.
ZUMBA – is a dance fitness programme and involves dance and aerobic elements. Zumba choreography incorporates hip-hop, soca, samba, salsa, meringue, mambo, martial arts and some Bollywood and belly dance moves. It is high energy.