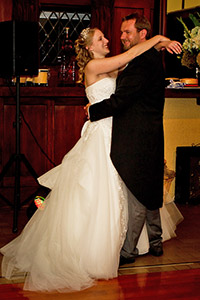 That first dance!
The Bride & Groom on the dance floor watched by some cases 100s of guests - a very challenging experience after several glasses of champagne.
Generally only 3 classes will be required by a teacher who specialises in choreography to your chosen music. To have a dance pre-planned takes all the stress out of that 1st dance. You may never have danced before but you will be glad that you had those 3 lessons!
However...
Many public schools introduce ballroom dancing into their 6th form as a preparation to social dancing in a more formal setting once they leave school and we can offer the same.